4) Unai Emery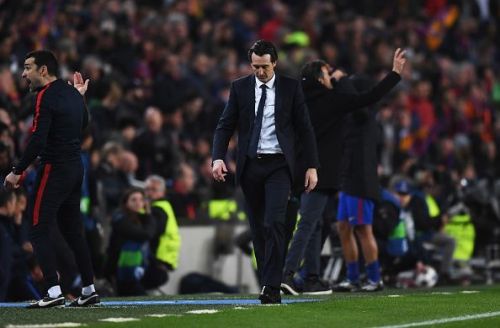 E
mery's team suffered a huge meltdown at the Nou Camp in March
A 4-0 lead for Paris Saint Germain heading to the Camp Nou should have meant 'Game Over' in the Round of 16 in last season's UEFA Champions League. But, Unai Emery's side suffered a nightmare collapse.
Even with an away goal scored by Edinson Cavani, three goals conceded in the final two minutes plus stoppage time saw PSG ejected out of the Champions League by Barcelona.
Emery led Sevilla to three successive UEFA europa league trophies, which was truly incredible. But given the players he has managed at PSG, who are far superior to the ones he had at Sevilla, he has been quite unsuccessful.
Ligue 1 should be won by PSG every season. AS Monaco have a very good side, but it doesn't compare to PSG's riches and for them to miss out on the title last season emphasises that his tenure at the French club has been quite poor.
He will most probably be successful with Neymar, Kylian Mbappe and Dani Alves all having signed, but their disaster at the Camp Nou and failing to win the league last season strongly confirms Emery is slightly overhyped as a manager.